SELF-AWARENESS THRU HANDWRITING ANALYSIS — Level 1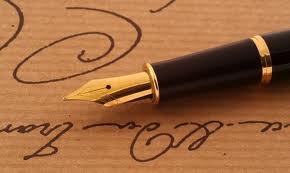 Handwriting Analysis — Graphology — is the science involved in producing a personality profile of the writer by examining the characteristics, traits and strokes of the individual's handwriting. Many things are revealed in your handwriting: your complete personality profile, plus health issues, past experiences, hidden talents, mental problems – a wealth of self-exploration awaits you. I will also teach you how this can help strengthen your the psychic connection and use your intuition.
This class is designed to enable you to KNOW YOURSELF by way of your own handwriting. The deepest secrets about ourselves are often 'hidden' in plain sight. The path of self-improvement begins with self-analysis. The reading of a thousand page history begins with the first written word – in your own hand! And once you begin to understand yourself, you are well on the way to 'writing' a new and improved version of yourself!
Note: This is a basic introduction to the subject. It does not make the attendees experts in Handwriting Analysis.
Hosted by Kay Phillips,
New Horizons Classroom,  Pear Tree Villa – 2nd Floor,
325 S. 8th, Quincy, IL 62301
Registration. Cost for the Workshop $40